Useful Links
Carbondale Chamber of Commerce
Carbondale is nestled in the heart of the Colorado Rockies, surrounded by beautiful vistas and ample outdoor recreation opportunities. Our chamber of Commerce helps bring it all together.
The Colorado Mountain Club (CMC)
Colorado's largest outdoor recreation organization. Each year the CMC sponsors thousands of activities within Colorado, plus numerous national and international outings and expeditions (including hiking & skiing).
PO Box 1348; Carbondale Co 81623
Tel. (970) 618-1341
email: bastac@cmc.org
The ASNC is a not-for-profit organization dedicated to preserving and improving cross-country skiing and snowshoe trails in the Aspen and Snowmass area. Call the Nordic Hotline for info at (970) 429-2039.
Spring Gulch Trail System in Carbondale
Mount Sopris Nordic Council is a 501(c) (3) non-profit organization which administers the Spring Gulch Trail System, 19 km of cross-country ski trails available for free to residents of and visitors to the Carbondale, Colorado community.
A sacred healing spot of the Ute Indians for hundreds of years. Considered when it was built in 1860 to be the largest hot springs pool in the world at the time.
Yampah Hot Springs Vapor Caves
The Ute Indians who originally inhabited this region visited these caves for centuries, and regarded them as a sacred place of healing and rejuvenation. Visitors today still honor that tradition. The Vapor Caves purify body and spirit as they soothe away aches and pains. Located in Glenwood Springs, CO.
Roaring Fork Transportation Authority Bus Service
Convenient 30 minute service between Glenwood Springs and Aspen. Please consult the schedule, as it changes seasonally.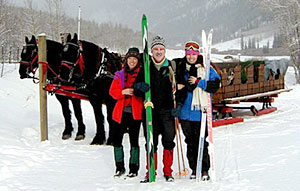 Airport Guide
Note to our Guests: Aspen is frequently the more expensive choice of airport with the least availability. Remember, you do have a choice, since Carbondale is in between three airports!
Served by United Airlines and Delta Airlines
Ground Transportation: Pitkin County Transportation Authority
Served by United Airlines and American Airlines
Ground Transportation: http://www.cmex.com/
Served by United Airlines, Delta Airlines, and Frontier Airlines
Ground Transportation: (rental cars only)
Served by all airlines! Ground Transportation: http://www.cmex.com/


Find Hotels near the Bronco's Stadium, Denver
http://invescofield.stadiumhotelnetwork.com/